If I said this last weekend went well that would be a lie. It wasn't the worst weekend ever, but drill weekends are just hard around here. With Nick's new work schedule it seems to be even harder.
While it's hard on me have 12 days in a row without a break, I think it's even harder for Nick. I can be lazy if I'm tired. For instance yesterday after Evelyn hardly slept Saturday night because of cutting teeth (She has 4 teeth now & the fifth one is on it's way.) I watched Downton Abbey: Season 2 all day. (I love, love, love Downton Abbey!) I didn't have to be attentive, productive, or get things done for other people like Nick does.
I did get to do something fun on Saturday though. My mom watched Evelyn while I went to a baby shower for a good friend who is due at the end of July with a little boy. I would have taken Evelyn with, but it was over nap time and I knew that was just a recipe for trouble. It was nice to get away from her for an afternoon and spend some time socializing. It was also nice that it lined up with a drill weekend, because I didn't have to feel like I was choosing friend time over Nick time.
All in all even though the weekend was particularly good or easy it had it's nice parts. For the most part those nice parts outweigh the not so nice parts.
Hope you had a good weekend friends!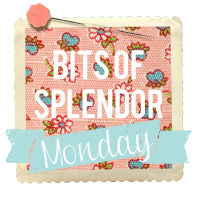 Linking up with Laura@
Bits of Splendor
like usual! If you haven't checked her blog out yet, you're missing out.