Dear Nick,
It's crazy to think we've been married for three years now. It's hard to believe. We've grown up a lot over these three years together. I love the man you're becoming. I thank God everyday for you.
Dear Banana Bread,
Please don't tell anyone I ate all of you in one week...by myself. I mean you contain bananas so you can't be that bad for me right? Well anyways I tried to get Nick to eat some of you, but he still hates bananas so he only ate a bite. Next time I make you I'm going to give half of you to my mom. That way I won't feel as guilty.
Dear Briana,
So glad we are getting to have coffee this morning. I feel like I don't get to see you anymore, because our schedules conflict like crazy. Maybe this summer we'll have more time to hang-out. Remember when we used to spend all our extra time together. Yeah I miss that. We were crazy.
Dear Weekend,
Thank you for coming so quickly this week! I needed that.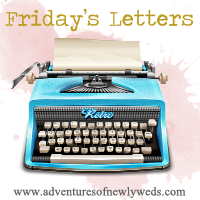 Happy Friday!
.